This One Is For The Builders
There's one truck in America that is the tool of choice for how we get things done. For you - the farmer, the professional, the business owner.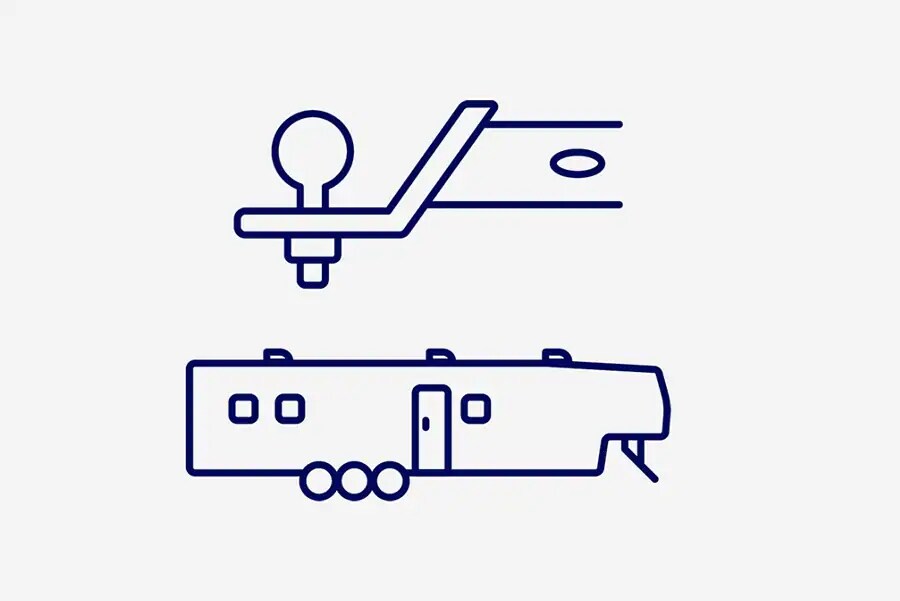 Intelligent Towing
The most advanced towing tech put into a truck simplifies your towing experience.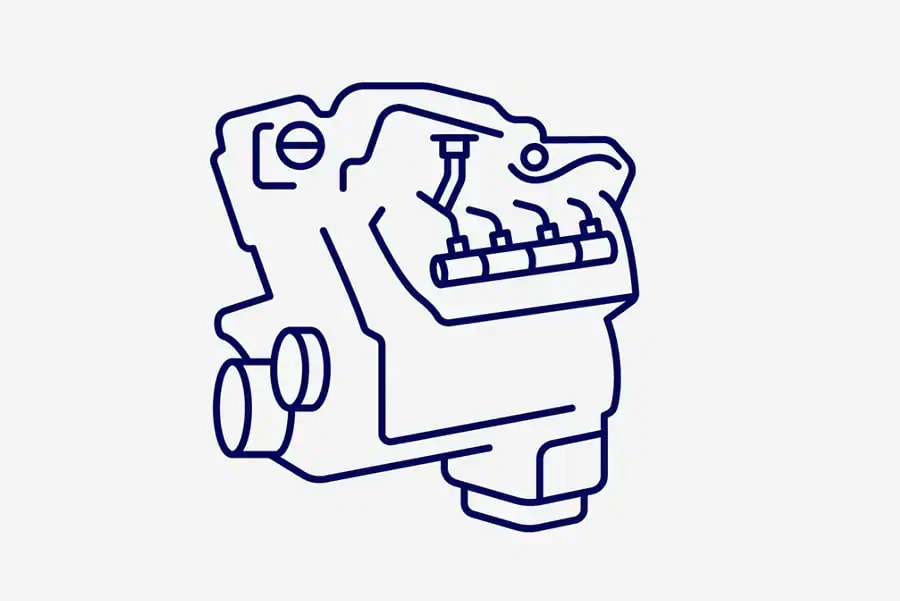 Colossal Power
Powerful Super Duty® engines churn out the kind of power used to build highways. Harvest farms. Move land movers. And tow a very big camper.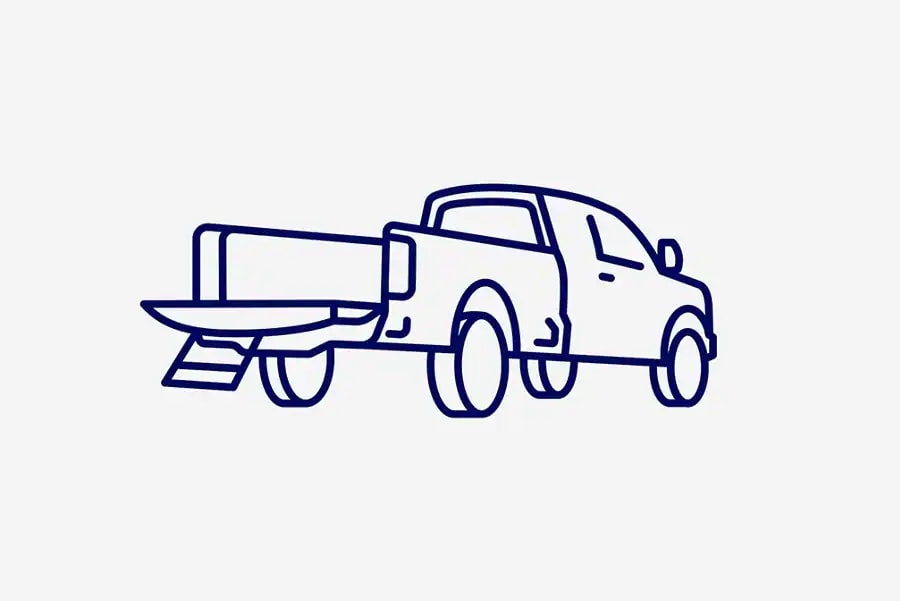 Ready To Work
Smartly engineered truck bed features that help make your workday go a little easier.
Purposeful Tech To Power Your Productivity
The capacity to move things. It's the heart and soul of your business.
So we've refined and improved towing tech as quick as demands dictate.
Advanced features that enhance productivity - and your bottom line.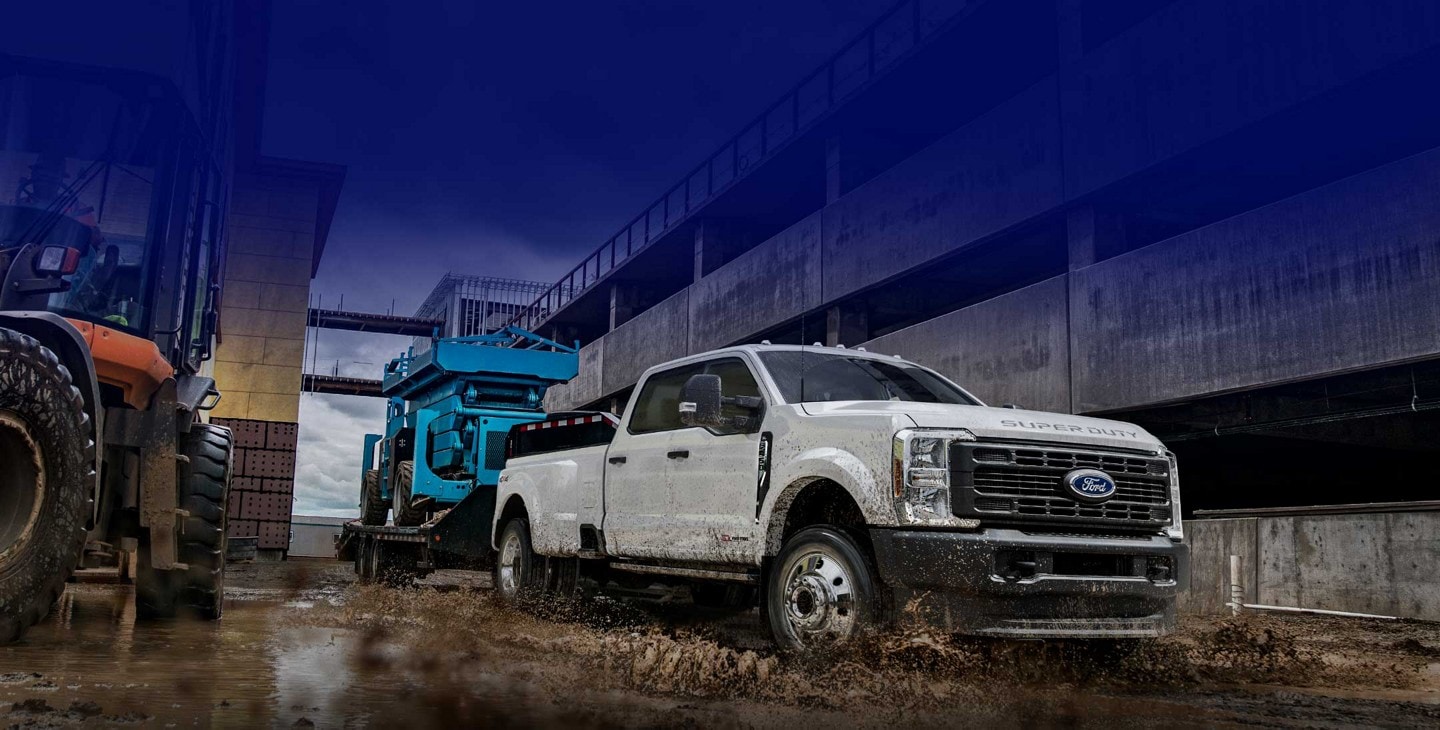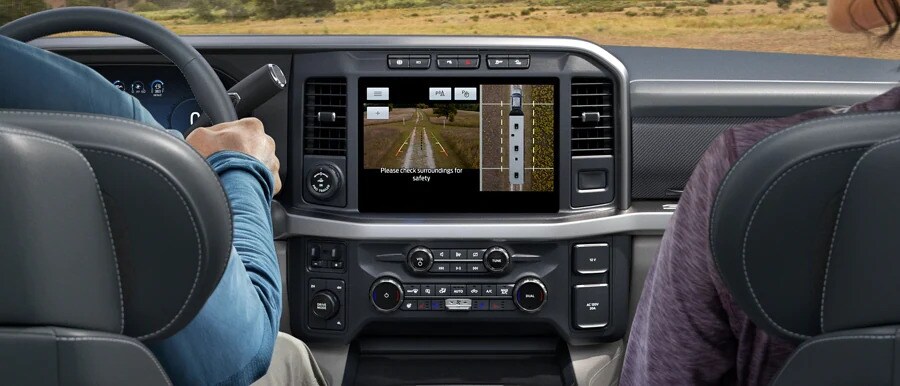 Get a Better Look At What's Around
For the trailer-towing journeyman and the weekend warrior, now get an eye-in-the-sky perspective. A new, available trailer 360° camera system allows you to see if you're free and clear on all sides of your truck and trailer. *
*Requires 360-degree Camera Package, available early 2023. 360-Degree Trailer Camera Kit available spring 2023.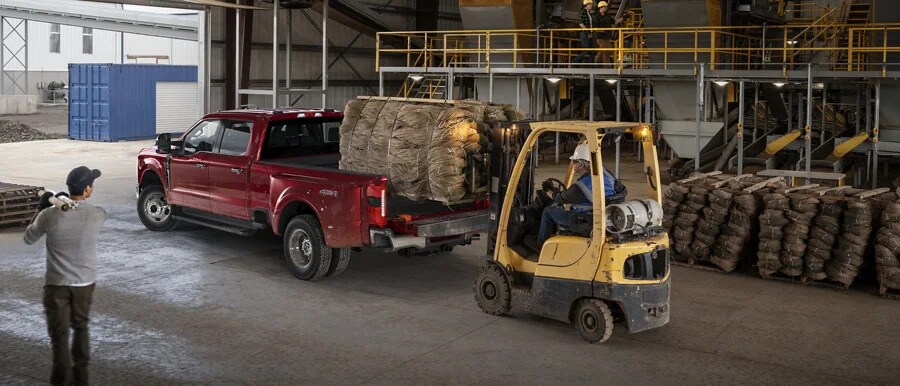 Know Your Weight Before You Go
When it comes to hauling heavy loads confidently, confidence shouldn't be left to chance. Available built-in On-Board Scales help estimate the weight and balance in the bed of the truck as you put your payload in. *
*Available spring 2023 on LARIAT, King Ranch,® Platinum and Limited models.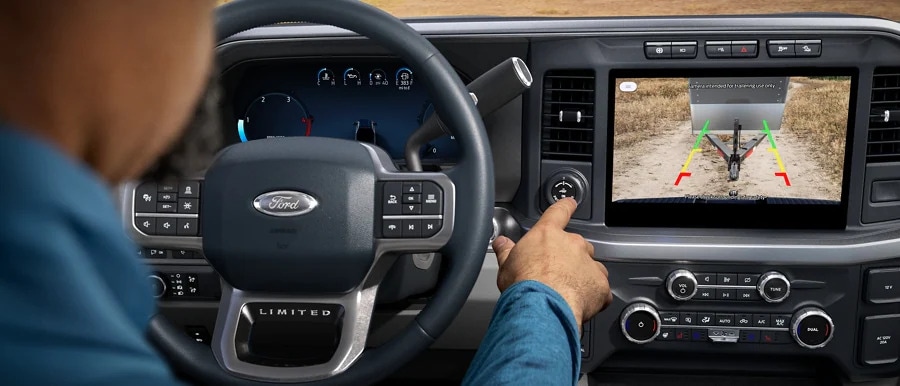 Easily Helps You Hitch It Yourself
Sometimes it's just you. Your Super Duty. ® And a bus-size trailer. Available Pro Trailer Hitch Assist allows you to stay put, without having to hop in and out of the cab to see if your hitch is lining up.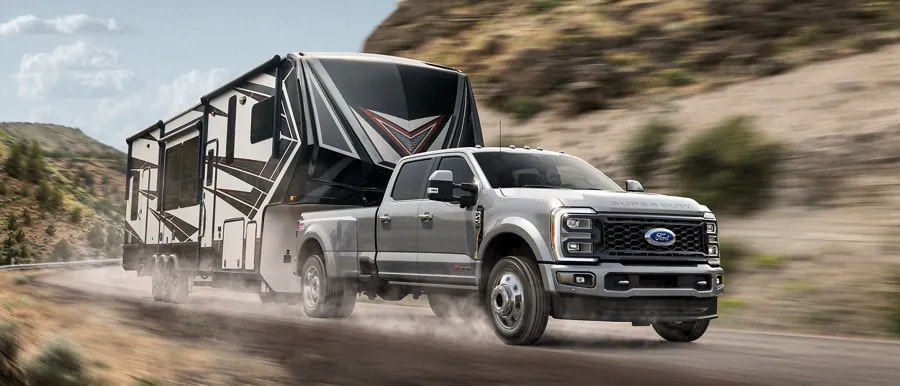 Puts You On The Best Route
Your work takes you down many roads. And with every unexpected obstacle, time is lost. Enhanced Trailer Navigation helps eliminate setbacks, because it keeps the size of your trailer in mind and adapts the route based on height and width clearances. So, you avoid jam-ups like low bridges and tight corners.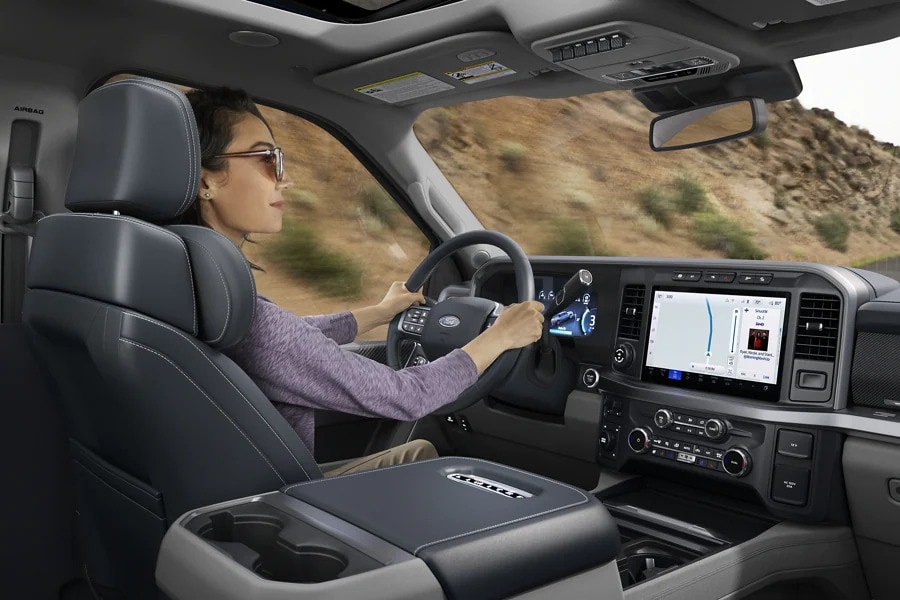 The Smartest Super Duty® Ever
Now equipped with 5G technology, 2023 Super Duty® trucks help keep productivity moving with the most advanced in-vehicle connectivity to date. So you stay connected and informed while on the move.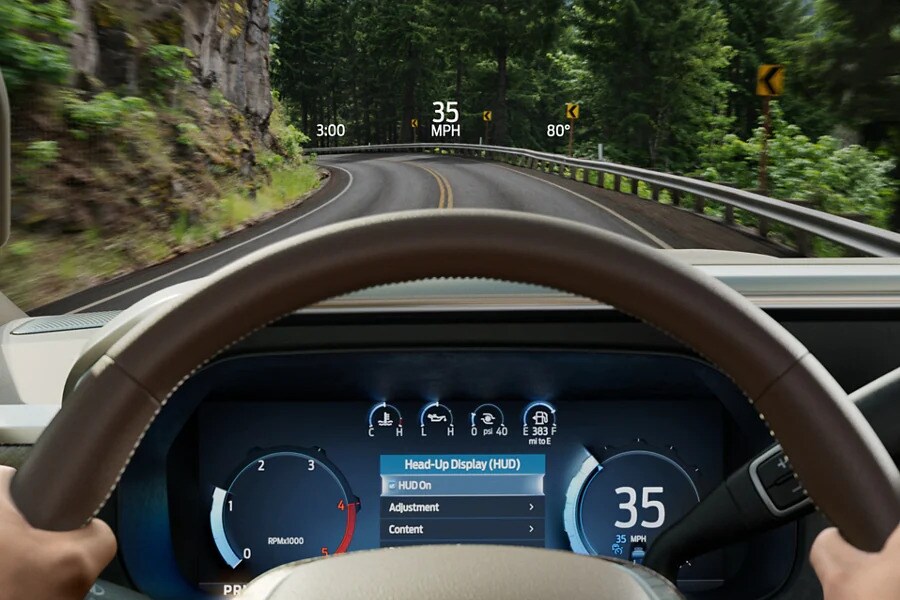 Keep Eyes Front and Center
A configurable digital instrument cluster delivers vital data where you need it. A new available Head-Up Display (HUD) helps you keep your eyes fixed firmly ahead. It projects real-time information directly on your windshield. *
*Don't drive while distracted. See Owner's Manual for details and system limitations.
Power to Move Big Things
It takes strength to build a country. To haul the steel beams. Or the cement that anchors them.
The 2023 Super Duty® pickup equipped with the new 6.7L High Output Power Stroke® V8 Turbo Diesel engine offers the most horsepower ever in a Super Duty. * Our commercial-grade 7.3L 2V DEVCT NA PFI V8 delivers outstanding gas engine performance.
*Horsepower and torque ratings based on premium fuel per SAE J1349® standard. Your results may vary.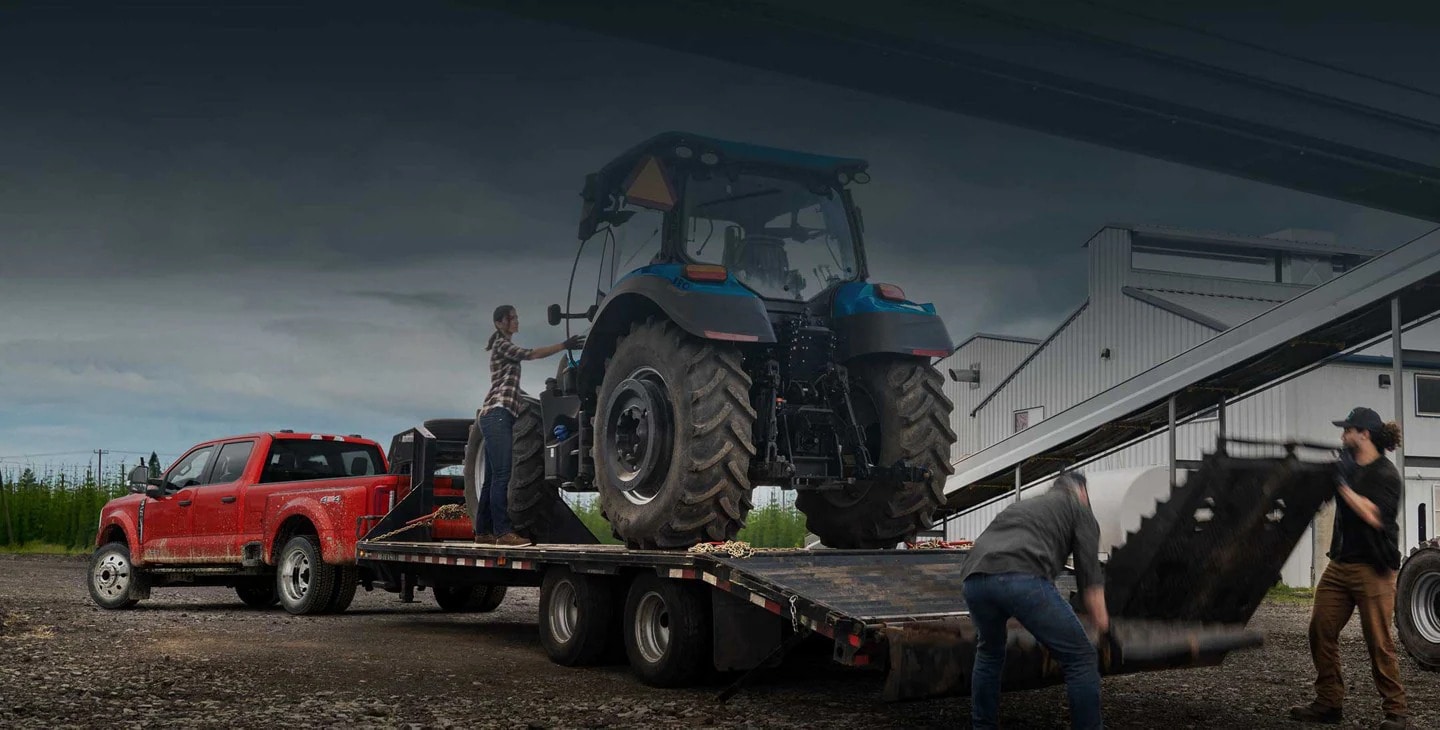 Forward Thinking, Right Behind You
It takes more than a good idea to turn a tough day into an easy one. It takes a bed full. So, we're giving you the stuff to make everyday tasks a lot easier. Functional features centered in and around the truck bed.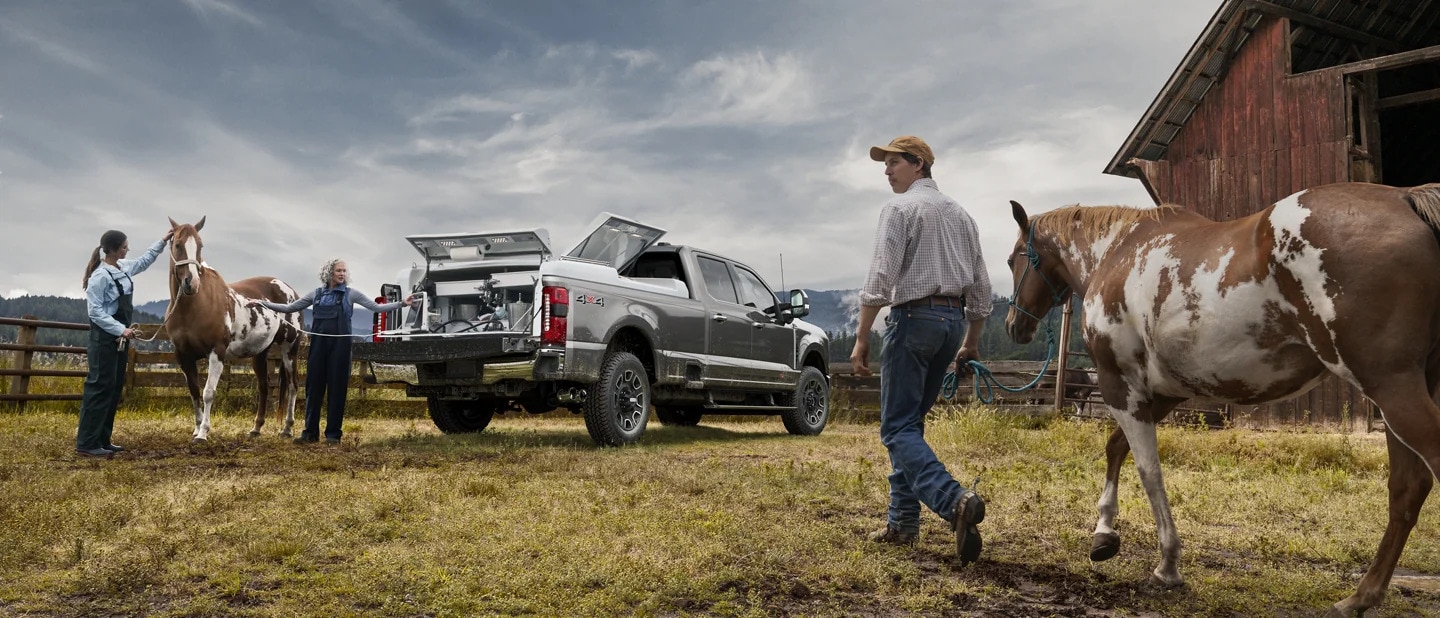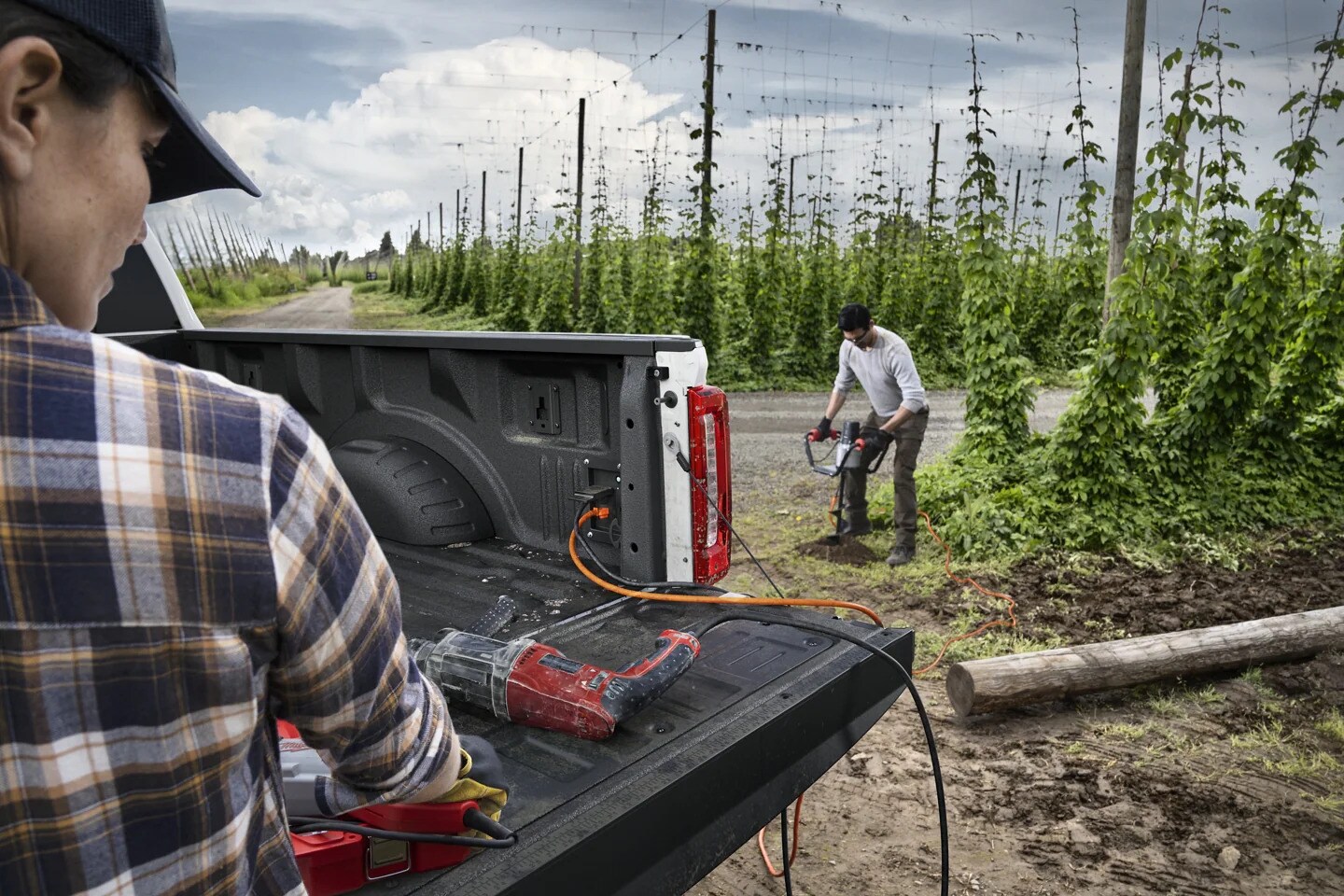 Power Goes Wherever You Go
When there's no time for lagtime, and there isn't an outlet to be found, you can still fire up your power tools. Built-in power from available Pro Power Onboard * delivers up to 2.0 KW to keep you working.
*See Owner's Manual for important operating instructions.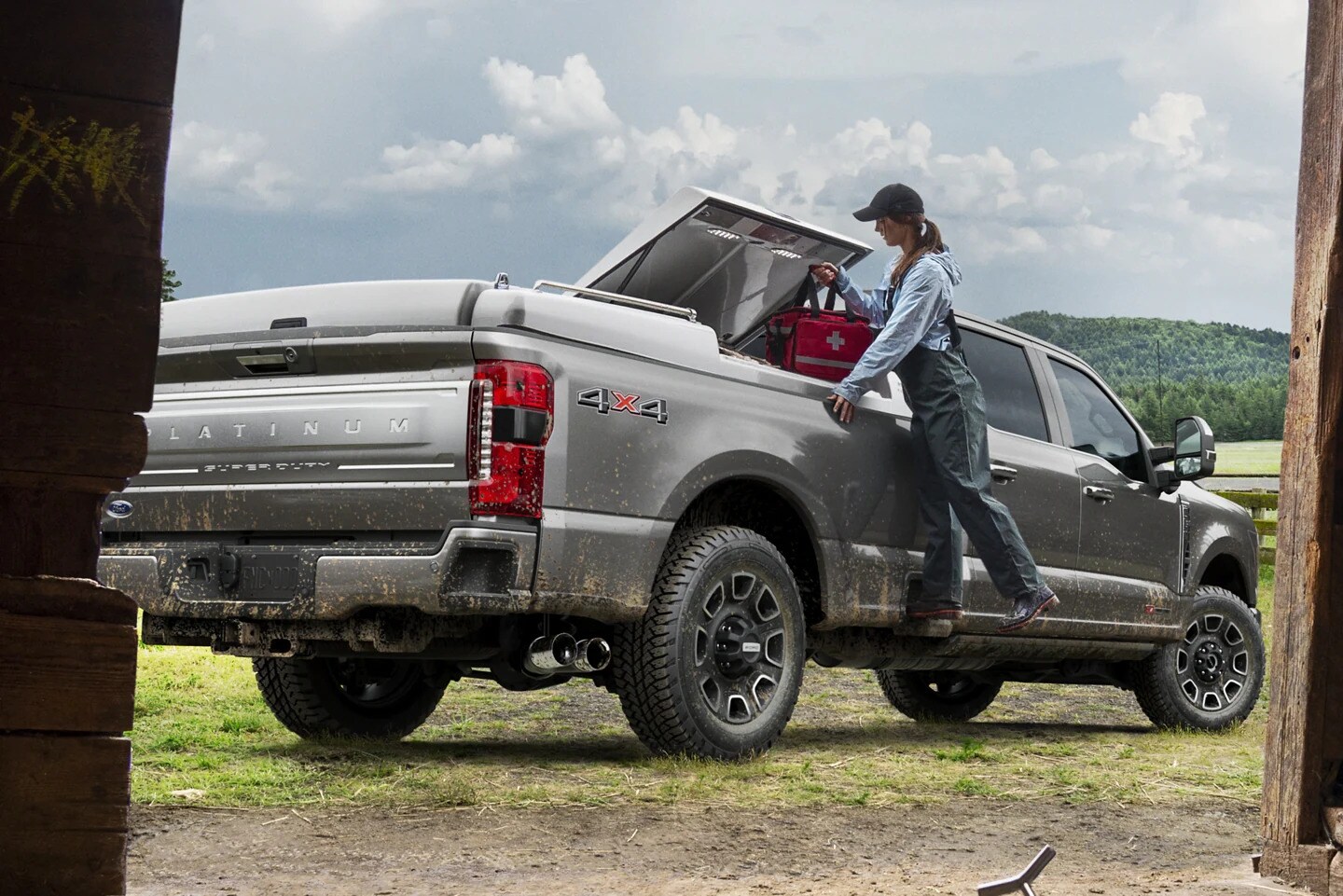 Access Right Where You Need It
Over a long day, who wants to stretch and strain reaching into a truck bed? That's where integrated box-side and rear corner bumper steps come in handy. They're especially helpful when hooking up a 5th-wheel trailer or lugging heavy tools.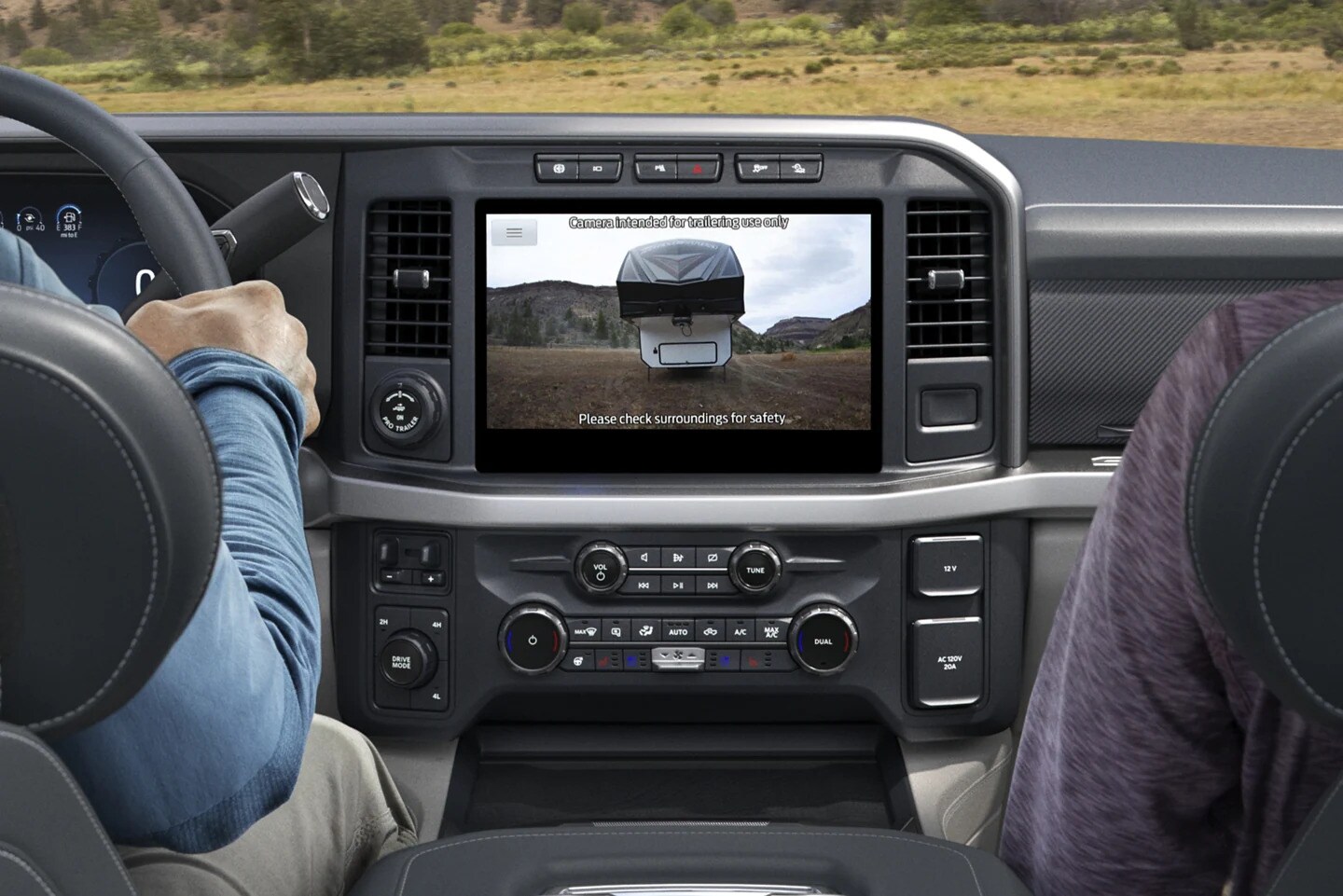 Power Tailgate That Looks Out For You
You saw the need, so we delivered. When down, while in reverse, a new top-mounted camera on the available Power Tailgate* still gives you a view from behind. It also raises and lowers automatically - with a simple nudge or tap of a button.
*Available spring 2023.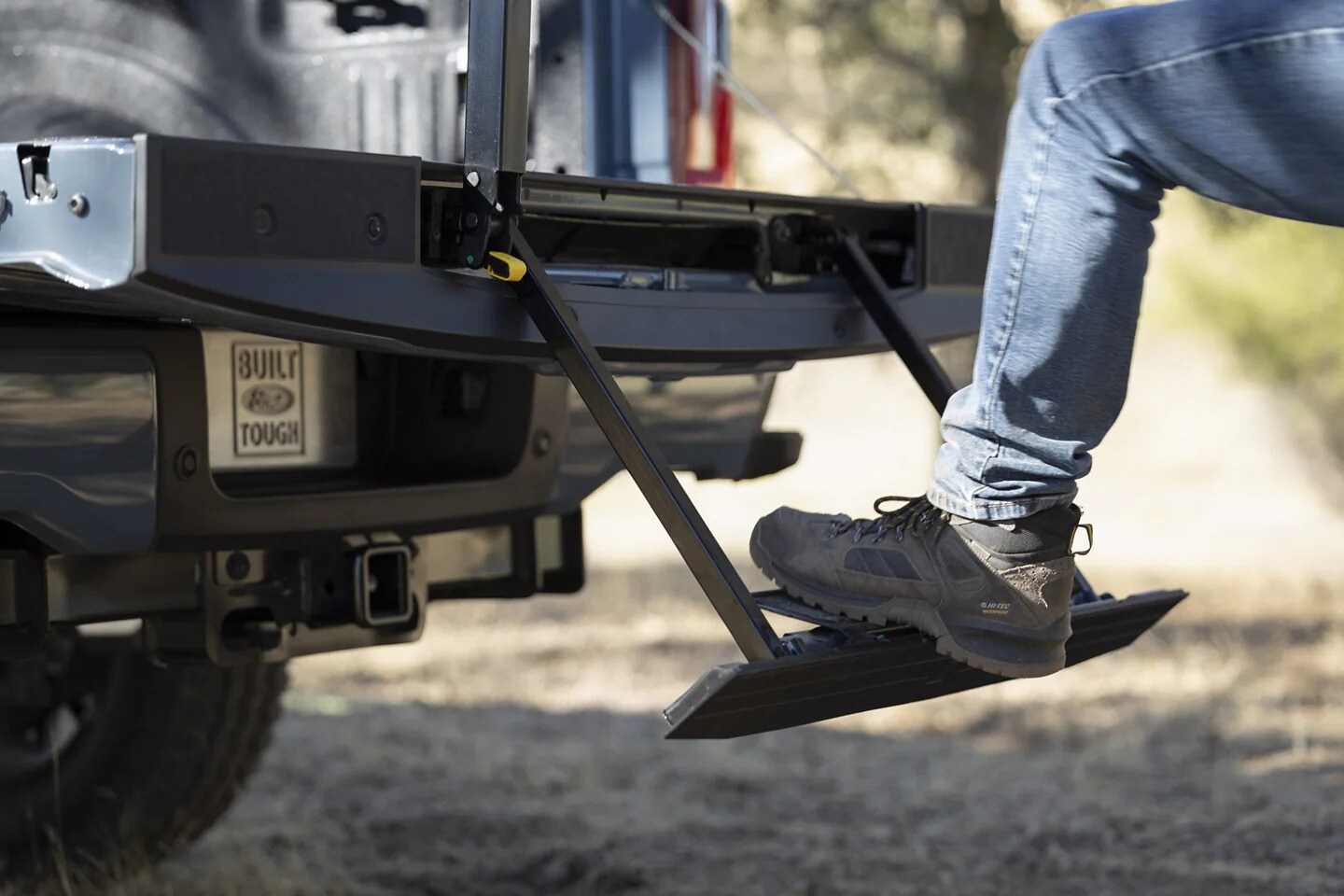 An Easier Climb
Designed for those who jump in and out of a truck bed more times a day than they care to. An available retractable tailgate step has been lowered 3" than previous Super Duty® models to help you climb into the bed of your truck more easily.
From Off-Road Rugged to Head-Turning Style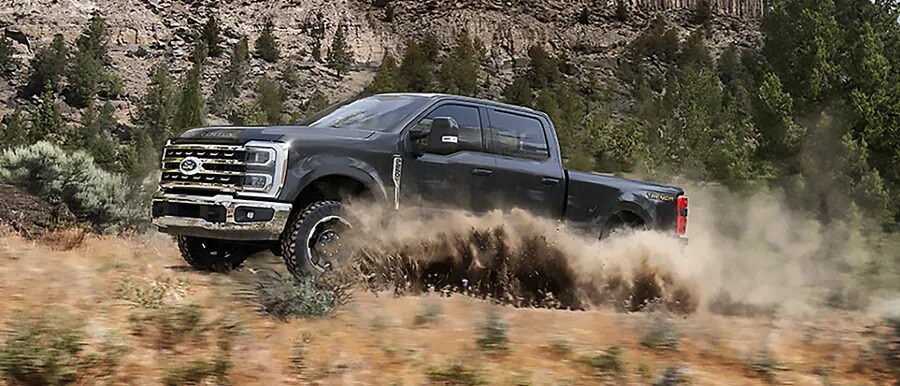 Tremor® Off-Road Package
The 2023 Ford Super Duty Tremor® is equipped to tackle the gnarliest terrain. Package includes an upgraded off-road tuned suspension, high ground clearance and meaty 35" all-terrain tires.
Always consult the Owner's Manual before off-road driving, know your terrain, and use appropriate safety gear.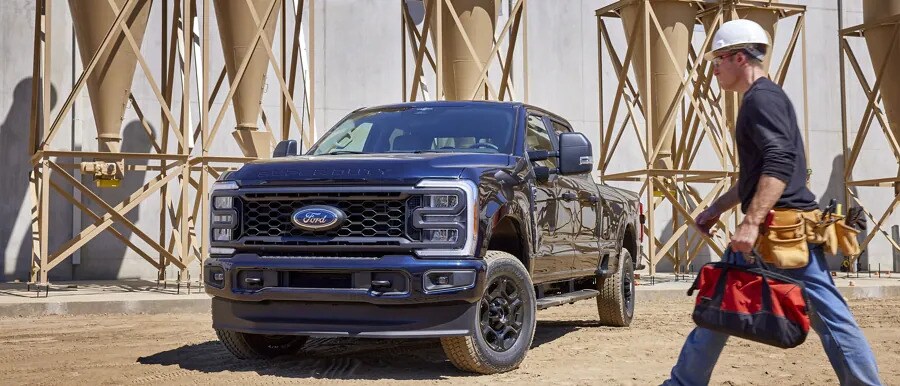 STX Package
Add a little more style to your Ford Super Duty® truck with the available STX Package. Exterior details include stylish 18" wheels, rugged A/T tires and bold STX badging, which says that you play as hard as you work.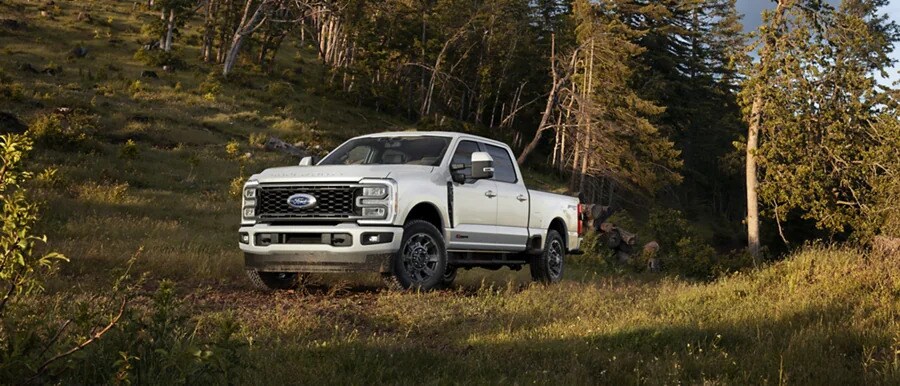 Sport Appearance Package
When matched along with a natural bold stance, the available Super Duty equipped Sport Appearance Package confidently shows off its athletic side. Dark-painted grille, platform running boards and large rugged wheels elevate the playing field.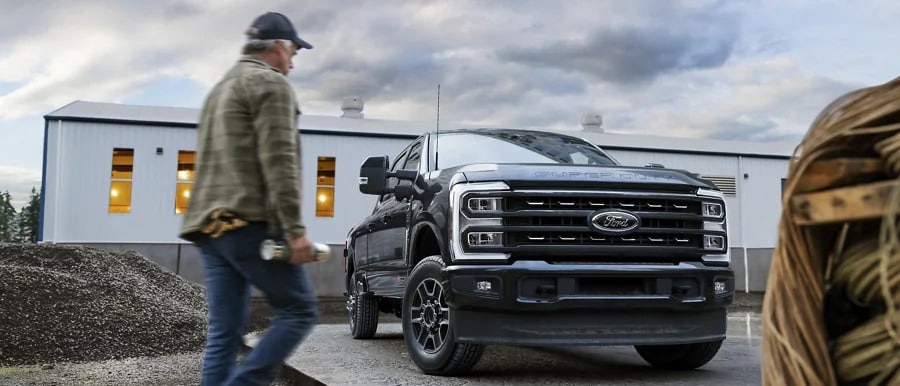 Black Appearance Package
This Black Appearance Package achieves the bold attention that it deserves. Rich black finishes throughout will turn heads from the job site to the boat launch. *
*Available spring 2023.
There's One For Any Job
Super Duty® Chassis Cab capability starts with a strong foundation.
With a wealth of upfit technology and capacity. Along with a suite of Ford Pro™ software and services, the new Ford Pro™ Upfit Integration System helps simplify the upfitting process. *
*Available spring 2023.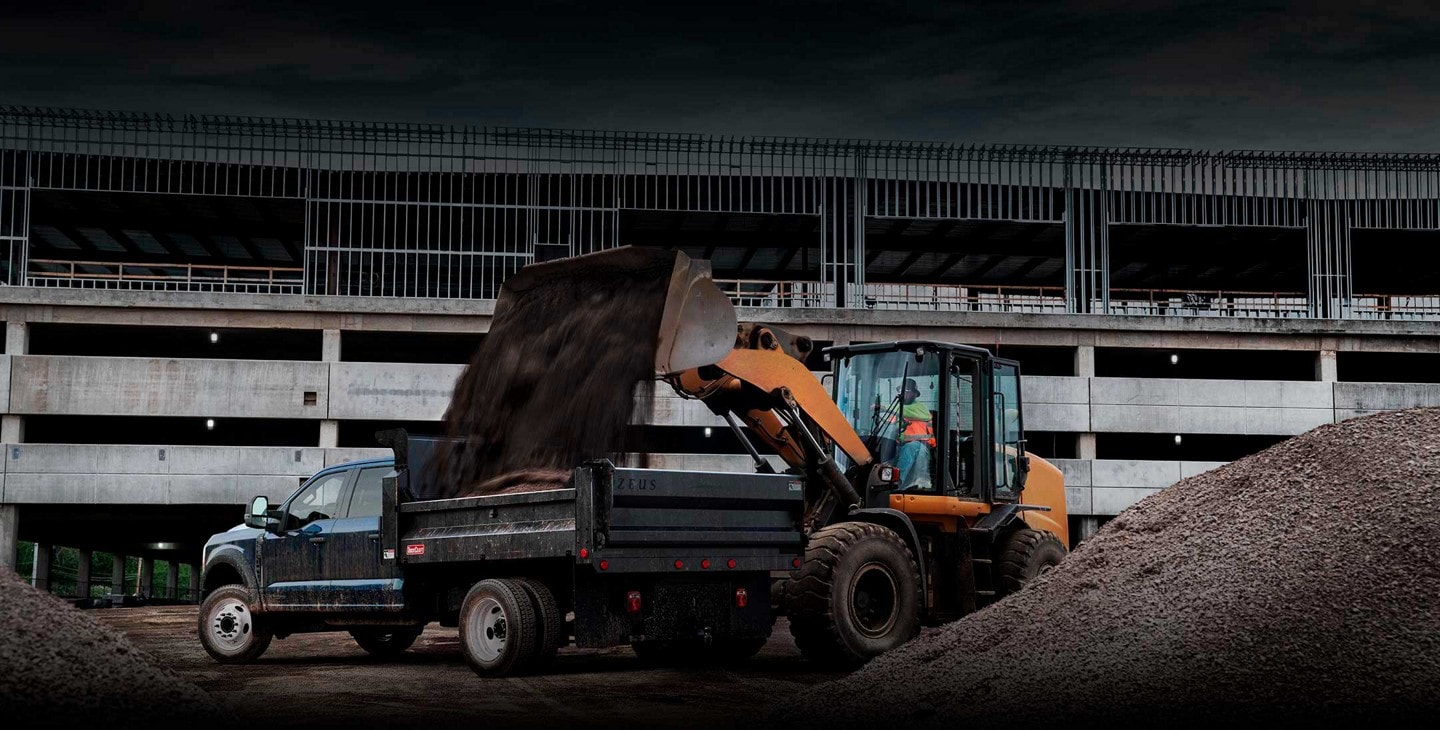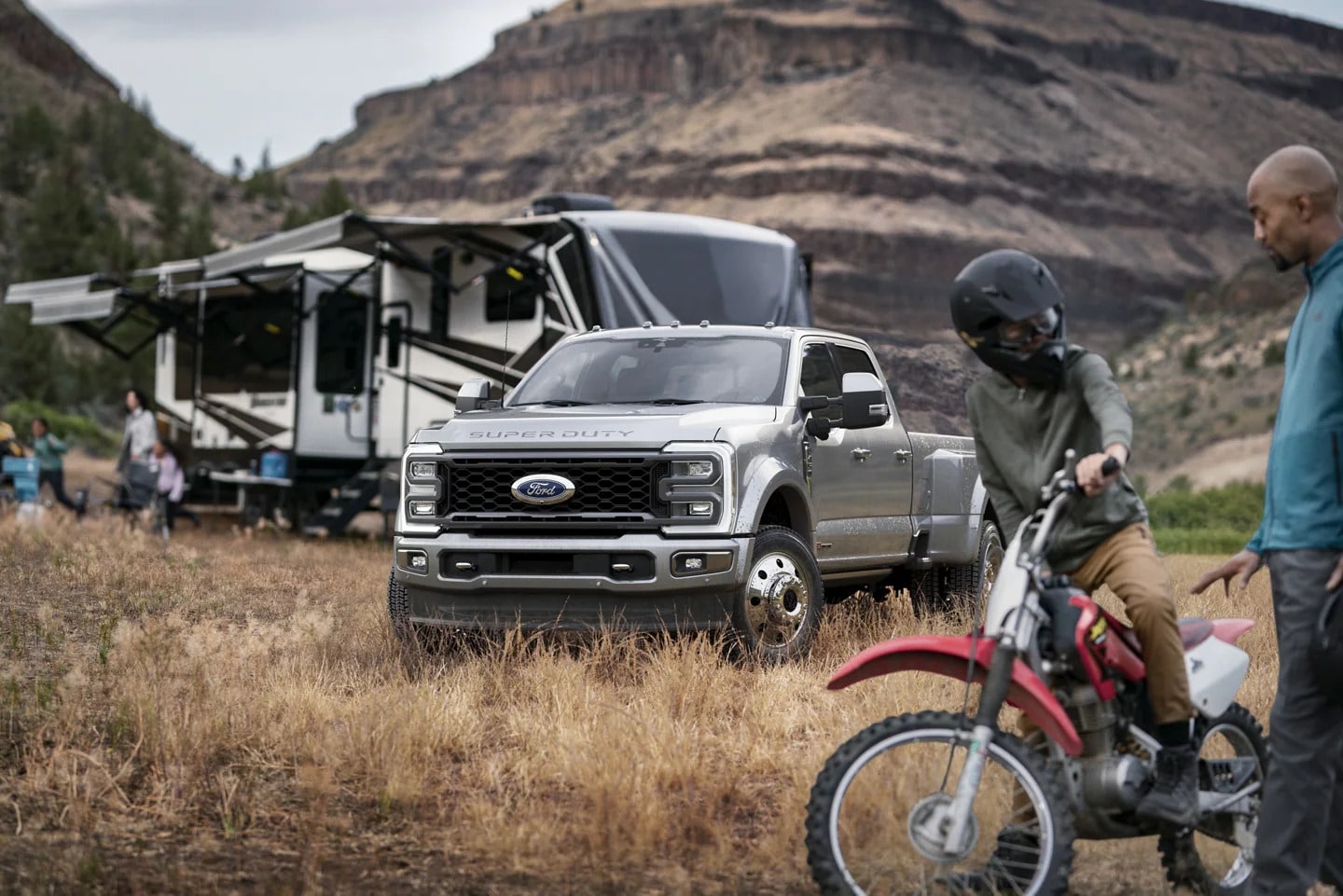 It Tows Big Toys, Too
When you head out for a weekend of kicking up dirt or just to relax away from the daily grind, Super Duty® trucks deliver massive towing and hauling capability so you can bring your toys with you.
It Really Hauls
With monstrous towing capacity to back it up, finding a load that's too heavy for Super Duty® trucks will be a challenge.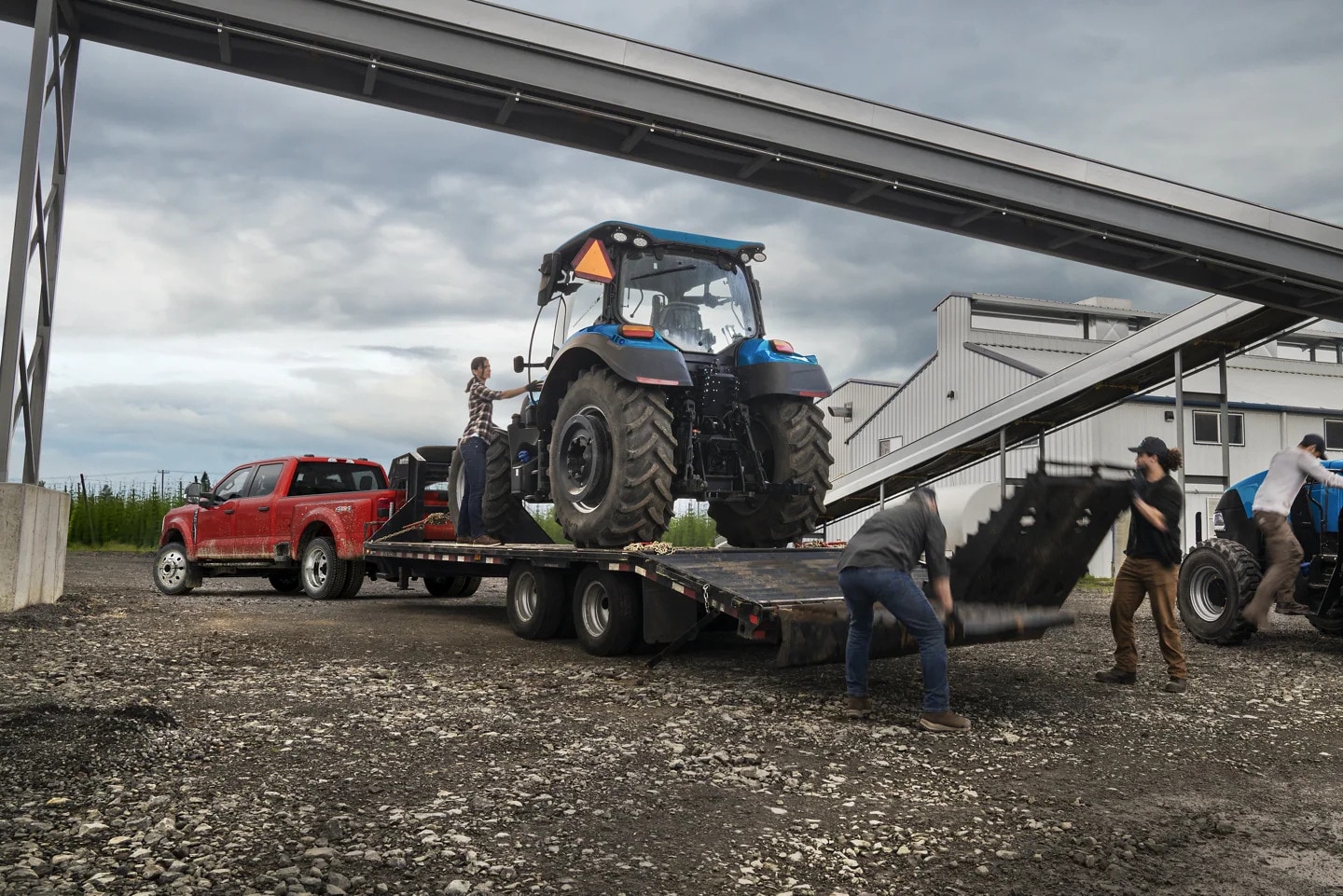 How can we help?
* Indicates a required field